Juvéderm
Offered at our convenient location in Scottsdale, Arizona
Juvéderm is a family of hyaluronic acid-based dermal fillers that add facial volume and fill deep facial wrinkles and creases. Each formula is specially designed to target different concerns and achieve different results. That is what makes Juvéderm one of the most popular hyaluronic acid-based family of fillers in the U.S. [1] We encourage you to schedule a consultation and see why! Contact Wolin Plastic Surgery Center in Scottsdale today by calling (480) 945-8440 to learn more about Juvéderm, and to learn what it can do for you!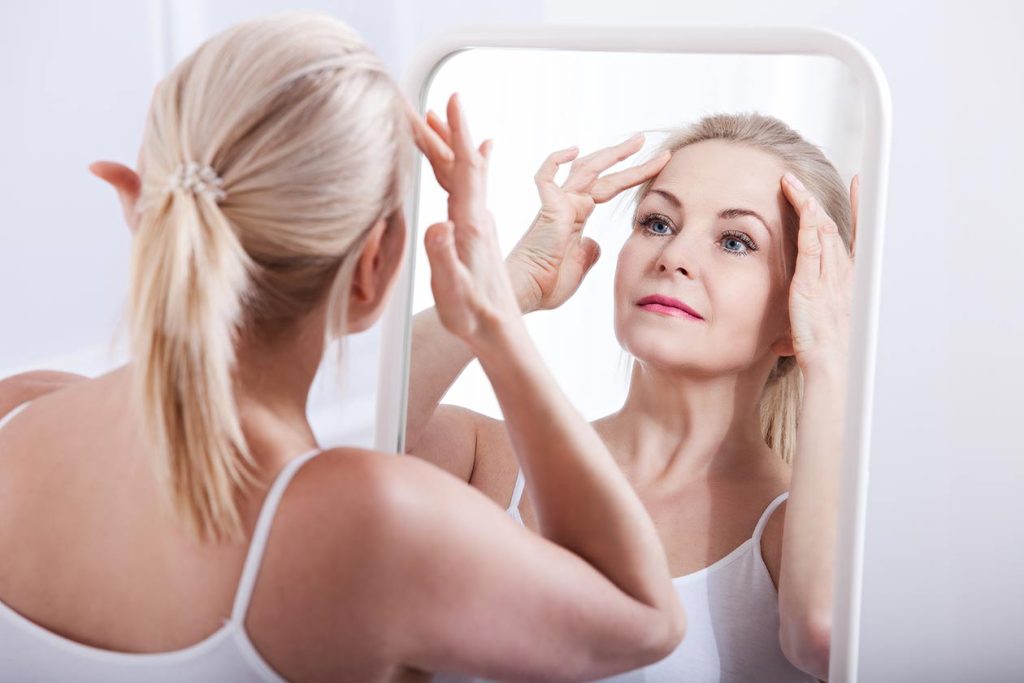 About
FDA-approved Juvéderm offers several different hyaluronic acid dermal fillers that are each designed to treat different cosmetic concerns. As a part of aging, the face loses fat and collagen, causing volume loss and less skin firmness. This can create a hollow look that can quickly age you. The goal of dermal fillers like Juvéderm is to restore facial volume and fill static wrinkles and creases to regain your youthful appearance. Some common treatment areas with hyaluronic acid fillers include the under eyes, cheeks, frown lines, lips, smile lines, chin, forehead lines, nose, jaw, and fine lines bordering the mouth. Treatment areas other than the face also include the back of the hands and the knees. Injections are made at varying depths depending on the concern being addressed. [2]
Hyaluronic acid fillers are the exemplar of the filler world for several reasons. For one, HA is naturally occurring in the body so there is no need for a skin test. Additionally, the makeup of these formulas is easily moldable which makes them very natural feeling and easy to work with, hence better results. [3]
Types of Juvéderm
Juvéderm Volbella XC
Juvéderm Volbella XC is designed to address undereye hollows as well as lip augmentation and wrinkles around the lips.
Juvéderm Ultra XC
Juvéderm Ultra XC is designed to plump the lips and smooth wrinkles surrounding the mouth. This thinner formulation makes it ideal for subtle enhancement.
Juvéderm Vollure XC / Juvéderm Ultra Plus XC / Juvéderm Ultra XC
Juvéderm Vollure XC, Juvéderm Ultra Plus XC, and Juvéderm Ultra XC are all designed to address moderate to severe creases and wrinkles. Each varies in thickness to address different wrinkle depths and severity.
Juvéderm Voluma XC
Juvéderm Voluma XC is the newest formula in the lineup. It is designed to address volume loss in the cheeks and enhance chin contour. [4]
To see which Juvéderm formula or combination of formulas will help you achieve the look you are striving for, schedule a consultation with double board certified Dr. Andrew Wolin.
Benefits
Hyaluronic acid is naturally found within our bodies so the chance of an adverse reaction to Juvéderm injections is slim to none. A skin test is not usually performed because of this. Hyaluronic acid's role in our bodies is to attract and retain water molecules and keep tissues hydrated. As it takes effect after injection, it creates a youthful appearance due to the additional volume. [2] Additionally, since the Juvéderm family consists of different formulas with different thicknesses, it is an excellent dermal filler choice for a variety of aesthetic concerns.
Candidates
Ideal candidates for Juvéderm injections are women and men 21 years or older who want to fill deep creases, smooth fine lines, add volume to the face or hands, or correct scarring. Those with active rashes or cold sore infections should hold off on receiving injections until these go away. Realistic expectations are important to have when receiving dermal filler injections. This is a temporary treatment, so routine visits are necessary to maintain your beautifully transformed appearance.
Personal Consultation
Whether you attend an in-person consultation in our Scottsdale location or virtually via Zoom, you will have the chance to express your cosmetic dislikes and your ideal goals. From there, an exam will take place to determine if you are a good candidate for Juvéderm or if another treatment would better suit you. If it is found that Juvéderm can accomplish your desired appearance, Dr. Wolin will explain the injection process so you come into your treatment appointment knowledgable and confident.
Preparation
To best prepare for Juvéderm injections, alcohol, nicotine, and blood thinners should not be ingested the week prior to your appointment. This helps decrease the risk of potential bleeding or bruising.
Procedure
To make sure your Juvéderm treatment is as comfortable as possible, topical numbing is available at your request. The injection process is quick enough to be performed during your lunch break. For wrinkle correction, intradermal injections will be performed. To add volume, subcutaneous or subperiosteal injections will be performed. And for lip augmentation, submucosal injections will be performed. [2]
Since cosmetic goals are subjective, no two treatments are alike. Dr. Wolin will mark the injection sites based on your individual anatomy and what you are trying to achieve to compliment you best. Injections will then take place, administering a small amount of Juvéderm at a time. This process should not be rushed to make sure not to overfill, so he takes his time. Even so, the entire process is quick and you will leave the office with noticeable results.
Recovery
It is completely fine to go back to your routine after dermal filler injections. If you experience any bruising or redness of the injection sites, you can apply makeup. The skin is a bit tender after treatment so ideally, you should avoid direct sun.
Results
Since Juvéderm retains water, patients can see improved results as quickly as 24 hours. The best results usually appear within a month. Depending on the Juvéderm formula used and the location of injection, results last between 9 and 24 months.
Corresponding & Complementary Procedures
If you want to help stop additional wrinkles from forming, Botox can be a great add-on injection treatment. Botox stops wrinkles from forming by temporarily halting communication between neurotransmitters and the muscles responsible for creating said wrinkles. [5] Common Botox injection locations include between the eyebrows, on the forehead, around the mouth, and at the corners of the eyes. This is because these locations are notorious for static wrinkles, which are wrinkles that remain even when you are not making expressions. When these wrinkles appear, dermal fillers are necessary to smooth them. However, if you treat dynamic wrinkles before they become static by using Botox, dermal filler is not necessary because there are no deep creases to fill at this point. It is very common to inject Botox and dermal fillers in the same appointment.
If you are interested in a more long-term solution, a fat transfer may be the right procedure for you. Think you can't get more natural than hyaluronic acid? How about your own body fat! Fat transfer accomplishes two different body contouring procedures at the same time: slimming through liposuction and augmenting with fat injections. Healthy fat cells are harvested from liposuctioning areas you wish to tone, like the stomach and thighs, and injected into places you wish to augment, contour, or fill. Dr. Wolin is one of the most experienced fat transfer surgeons. He is more than happy to educate and discuss the benefits of this artistic cosmetic surgery procedure during a personal consultation.
Cost
While the price per cc remains the same, Juvéderm quotes will be different for each patient based on the formula received and how many syringes or cc's are needed to reach your specific goals. In order to receive an accurate quote, call our Scottsdale office at (480) 945-8440 or fill out our online form to schedule your consultation.
FAQ
Which type of Juvéderm is best for me?
Juvéderm has different formulations of varying consistencies to ensure that the appropriate filler is used to correct different concerns. Certain formulas are good for lip augmentation while others are reserved for filling deep creases.
How is Juvéderm different from other dermal fillers?
Juvéderm is a hyaluronic acid-based filler, the many benefits of which are explained above. There are other dermal fillers that are made up of different substances such as calcium hydroxylapatite (CaHA: Radiesse) and poly-L-lactic acid (PLLA: Sculptra). CaHA fillers have microspheres within a carrier gel that aid in the delivery of collagen. Synthetic PLLA fillers induce an inflammatory response when injected to increase collagen production. [6]

No filler is necessarily better than another; each provides its specific benefits in different instances. Only during a consultation with a knowledgeable doctor can you find out which dermal filler will be best for you.
References