Dr. Wolin's Exclusive Skin Building Program
Offered at our convenient location in Scottsdale, Arizona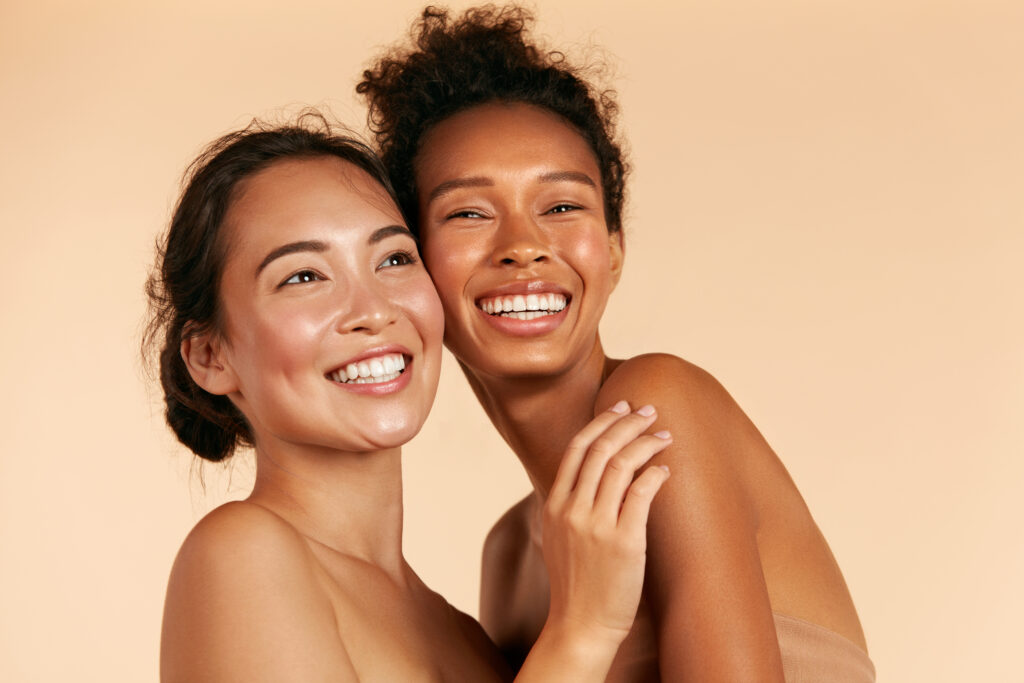 A few years ago Dr. Wolin decided that the most important approach for achieving the best surgical results for his facial surgical patients would be to include a skin preparation program before each surgical procedure. He found that by building the thickness and health of the pre operative skin as well as providing a daily barrier and sun protective component, he was enhancing the surgical facial results to an amazing degree. No matter how great their facial surgical results were, the patients would always extoll the improvement in the health and beauty of their skin.
This skin preparation program became the core of his customized Skin Building Protocol. The program is not just for his pre-surgical patients. It is for everyone who values the best in health and beauty of their face, hands, neck and chest.
The Program Consists of Four Basic Products
There are no preservatives or fragrances in any of the products.
Radiance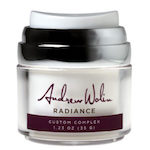 An individualized night cream called Radiance which contains a customized patient specific concentration of Retin A, an anti inflammatory, a clarifying pigment inhibitor as well as vitamin B,C,E and multiple anti oxidants and growth stimulating agents.
Daytime Barrier/Moisturizing Products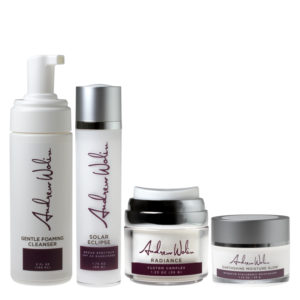 The daytime Barrier/Moisturizing products are chosen based on the exact skin type of each patient. They consist of Hydrating and Water barrier products as well as vitamin B, C, E, anti oxidants and polypeptides.
The Solar Eclipse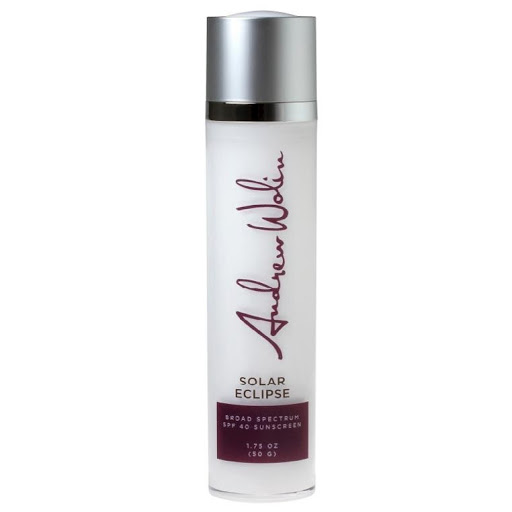 The Solar Eclipse is a tinted mineral mousse sun block/moisturizing agent which blends beautifully with the Barrier products and your makeup foundation.
Foaming Cleanser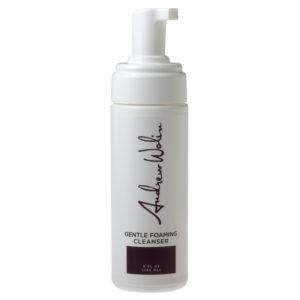 Our Foaming Cleanser is gentle yet powerful enough to remove all the debri from the day's environment and rounds out the basic 4 product regiment.
The Skin Building Regimen is very simple:
Cleansing in the morning and night
Nightime skin building
Daytime barrier/moisurizer
Daytime protection from the environment
Make an appointment today and come in for your customized Skin Building analysis and begin the best skin experience of your life. Visit our online store at: www.shopandrewwolin.com and peruse all our facial, neck,chest and hand offerings.
Our Major Skin building packages are specifically designed for different types of skin. These differences between the packages are based on oil production, degree of environmental damage and dehydration.
All of the preparations contain moisturizing elements, growth factors and antioxidants. None of the products contain fragrances or preservatives. Their differences lie in exactly how they deliver these enhancing agents.
Before & After Photos
Our PREMIUM ANTI OXIDANT RICHE PACKAGE Consists of Four Products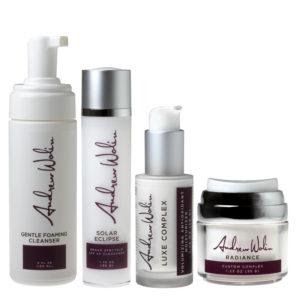 Radiance
Our first component Radiance, our nightime primary skin building product, is the backbone of all the packages. Radiance contains an individualized combination of RetinA, anti inflammatories and a hydroquinone( skin lightening) precursor, Arbutin, which is gentler and is better tolerated by all patients. These are combined with a unique skin brightener combining Kojic acid, Lactic acid and Vitamin C fortified with Green Tea vastly improving the appearance of skin tone.
Luxe Barrier/Moisturizer
Our second component is Luxe Barrier/Moisturizer.This is a perfect match for dry, sensitive types. This retinoid-free skin enhancement increases hydration via Acetyl hexapeptide-37and is formulated with the barrier enhancing lipids Cholesterol, Fatty acids and Ceramides in a biomimetic multi-lamellar emulsion. It is also fortified with Niacinamide and anti-oxidant Vitamins C and E, as well as Ferulic acid ester and texture-enhancing peptides.
Moisture UVA, UVB Blocking Mineral
Our third component is a moisturizing UVA, UVB blocking mineral only preparation that is delivered as a semi dry mousse preparation. It is composed of 14% Zinc oxide tinted to a neutral skin tone by using Iron Oxide as the coloring agent. It is an emollient formula but when applied feels like a soft mousse preparation ideal for routine facial photoprotection. Fortified with the powerful anti-oxidants Melanin, Vitamins C, E and Ferulic acid ester in an emollient elastomer gel vehicle, it leaves skin with a dewy look and is best for sensitive skin types or post peel/ laser treatment. As with all our products, it is Chemical-free, Fragrance-free, and Preservative-free.
Gentle Cleansing Foam Preparation
Our fourth product is our Gentle Cleansing Foam preparation. Balanced to an ideal pH of 7.2-7.4 it is perfect for AM and PM removal of our Skin Building products and is an extra-gentle cleanser best formulated for sensitive skin.It contains soothing Evodiox™, derived from the Chinese Evodia rutaecarpa plant and is a perfect companion to the other products.
The remaining packages all contain Radiance, Gently Foaming Cleanser and Solar Eclipse UVA-UVB block.
The difference between the three packages is in the Barrier/Moisturizer product.
Our Revolutionary Oil Balancing Package
Blue Moon Barrier: our second of three Barrier/Moisturizing products
This elegant , sensual product is 100% oil-free and maintains it's protective function through the use of Dimethicone and Siliconized ingredients. It is a fragrance-free moisturizer and is perfect for those patients with oily skin. Oligopeptide-10, a new, short-chain peptide, provides antioxidant and anti pigmentary effects and makes this product a favorite among our dry skinned patients.
Our Moisture Enhancement Package
Our Moisture Enhancement Package contains EARTHSHINE MOISTURE GLOW  lightweight moisturizer that contains barrier replenishing Ceramide lipids combined with the intense hydration of Hyaluronic acid, which can hold 1,000 times its weight in water.
This gentle moisturizer locks in moisture while simultaneously enhancing the skin's natural barrier to help it function at optimal levels. It is fantastic for those with dry, crepey skin as it functions as an effective, hydrating cream.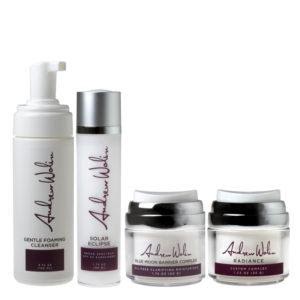 Dr Wolin has created this multiple pronged Skin Building approach so that all patients can find a program that will fit their individual skin enhancement requirements. Nightime building with Radiance and daytime individualized Barrier/Moisturizing is the key to healthier and more beautiful skin. Facial, neck, decolettage, hands and arms will all benefit from this regimen.
Call our office now so you can be part of the Skin Building Revolution.
SHOP NOW
SHOP NOW