Revance RHA Fillers
Offered at our convenient location in Scottsdale, Arizona
Revance is a hyaluronic dermal (HA) filler that is used to add volume to the skin and help smooth away wrinkles. It is made of a substance that is naturally found in the body, making it safe and effective for most patients. Revance's unique formulation helps it better mimic the natural hyaluronic acid found in healthy skin, which means your face will move like your face without the "done" look.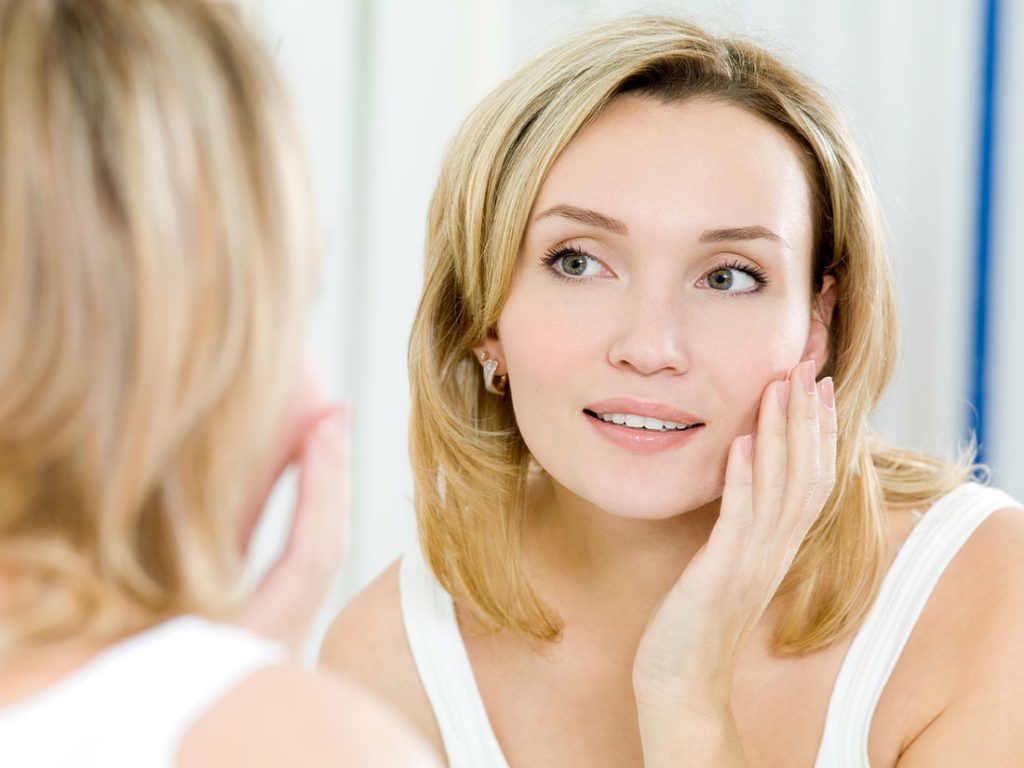 Dr. Andrew Wolin is a board-certified plastic surgeon who offers Revance and many other injectables to his patients in Scottsdale, AZ. He has extensive experience with this filler and can help you achieve the results you desire. Call (480) 945-8440 to speak with our scheduling coordinator or fill out this form to request an appointment.
Your Youthful Skin
As we age, our facial fat pads become depleted and start to sag; this process reveals creases and bulges that were not there in our youth. Dermal fillers are a temporary remedy for this issue and they work by plumping the skin resulting in a lifted, smoothed appearance. At Wolin Plastic Surgery Center, we strive to use fillers to restore patients' unique beauty. Before treatment, we will ask you to bring in a photo from your younger years so that we can re-create your youthful composition. You will look like you, only younger!
The Revance Difference
Resilient Hyaluronic Acid, or RHA, was developed in Switzerland and has been successfully used there for years to produce beautiful, natural results. The Revance RHA collection contains dermal fillers that are FDA-approved to treat dynamic facial wrinkles, such as crow's feet or laugh lines.
RHA uses both stretch and strength to erase wrinkles from your face that surface throughout the day, like smile lines. You'll still be able to make all of your natural facial expressions so you won't have a frozen or filled appearance because RHA fillers move with you!
RHA 2 and 3 are meant for mild to moderate wrinkles and folds in the face.
RHA 4 can be injected deeper to create volume in areas of the face that may suffer from fullness deficiency, such as the cheeks.
These fillers can be used in combination with each other to create a custom treatment plan that is tailored to your individual anatomy.
How are RHA Fillers Different?
Revance is a versatile filler that can be used to treat a variety of concerns, including
Marionette lines (lines that run from the corners of the mouth down to the chin)
Smile lines (creases that run from the corners of the mouth to the nose)
Lip lines
Lip enhancement
Cheek enhancement
In addition, Revance can diminish the appearance of acne scars and other scarring.
Revance RHA fillers are unique because they contain small particles of HA that are tightly bound together. This makes it longer-lasting than other HA fillers on the market.
In addition, Revance has been shown to stimulate the production of collagen. Injecting cross-linked hyaluronic acid into the skin helps to produce new collagen; this is important because collagen is what keeps skin firm, and looking young and healthy. Scientists believe that this happens because when hyaluronic acid is injected, it attracts and binds to the water molecules in the dermis, and this hydrating effect activates the cells that make collagen. So, cross-linked hyaluronic acid could be used to help people with conditions that cause their skin to look old and unhealthy. [1]
This makes Revance an ideal choice for patients who are looking for long-lasting results and want to improve the overall quality of their skin.
What is Hyaluronic Acid?
Hyaluronic acid is a type of large molecule that is found in living things. It is used in medicine, cosmetics, and other areas where it might be helpful.
Hyaluronic acid helps to keep the skin hydrated and plump. But as we age, our bodies produce less HA, which can lead to the formation of lines and wrinkles. Revance helps to replenish the HA in the skin, resulting in a more youthful appearance.
Hyaluronic is found in the skin, and in our joints and eyes. It's the natural lubricant that keeps these important tissues healthy. However, the HA in dermal fillers has been engineered on a molecular level to harness and optimize its abilities!
Revance is made of cross-linked hyaluronic acid, which means it is more durable and long-lasting than other fillers.
The major issue with non-cross-linked hyaluronic acid is that it quickly dissolves after penetrating the skin, causing the substance to migrate and making it difficult to achieve a long-term expansion effect. [2] To solve this problem and provide a longer-lasting antiwrinkle solution, cross-linked HA is used in Revance fillers.
What are the Benefits of Revance?
As we age, our skin changes. We begin to see wrinkles, lines, and sagging skin. These are all natural signs of aging, but that doesn't mean we have to accept them! There are many ways to combat the effects of aging on our skin, and one of the most effective is Revance.
Revance is a revolutionary new cosmetic injectable that can help to smooth away lines and wrinkles, restore volume to the face, and even improve the skin's overall texture and tone.
Unlike other synthetic cosmetic injectables, Revance is made from a naturally-occurring substance so there is minimal risk for allergic reactions and the formula is longer lasting than most.
Candidates for Revance
Revance is an excellent option for patients who are looking for a minimally-invasive way to achieve their cosmetic goals with zero downtime. It is especially effective in treating the following:
Lines and wrinkles around the eyes (crow's feet)
Forehead lines
Nasolabial folds (lines from the nose to the corners of the mouth)
Lip lines
Marionette lines (lines from the corners of the mouth to the chin)
Revance can also be used to improve the overall texture and tone of the skin, as well as to restore volume to areas that have lost it due to aging.
Personal Consultation
Dr. Wolin will discuss your goals for treatment and determine the best places to inject Revance in order to achieve your desired results. He will also explain the risks and benefits of treatment so that you can make an informed decision about whether or not Revance is right for you. Remember to bring in a photo from your youth so Dr. Wolin can get an idea of the look you are going for.
If you are interested in learning more about Revance, we invite you to schedule a personal consultation with Dr. Wolin. If another treatment option is better suited for you, Dr. Wolin will let you know and provide you with information about that treatment.
No matter what your goals are, Dr. Wolin can help you achieve them. Schedule a consultation today to get started!
What to Expect During Treatment
The Revance RHA filler contains lidocaine to aid in comfort during your treatment, however, if you prefer a numbing cream applied before injection we would be happy to accommodate your wishes.
After your skin is numbed, Revance is injected into the skin using a fine needle. The injection process is quick and easy. Most patients see immediate results after treatment, but it may take up to two weeks for the full effects of Revance to be visible.
Recovery and Results
There is no downtime associated with the Revance procedure. You may experience some redness, swelling, bruising, or tenderness at the injection site, but this is typically mild and should resolve on its own within a few hours. Patients can typically return to their normal activities immediately following treatment.
The results of Revance will continue to improve over the next few weeks as the HA in the skin begins to attract and retain water. Most patients will see optimal results after about two months.
Revance is a long-lasting but not a permanent filler, and patients typically require touch-up treatments every nine to twelve months to maintain their results.
If you are interested in learning more about Revance, we invite you to contact our office today to schedule a personal consultation.
Corresponding & Complementary Procedures
In addition to Revance, there are a number of other injectable fillers that can be used to achieve beautiful results. We offer:
Dr. Wolin is also a skilled surgeon with a range of procedures offered to patients looking for a more permanent solution to their face and body concerns. If you are looking for a more permanent facial solution, Dr. Wolin offers a Facelift for permanent lift, as well as Fat Transfer, which can further help to plump the face using your own fat.
What is the Cost of Revance in Scottsdale, AZ?
The cost of Revance will vary depending on the specific areas being treated and the amount of product needed to achieve the desired results. During your personal consultation, Dr. Wolin will provide you with a detailed estimate of the cost of your treatment. So don't delay, call or email us today to book your consultation! In Scottsdale, AZ, call (480) 945-8440 to reach our scheduling coordinator.
References
Wang F, Garza LA, Kang S, et al. In Vivo Stimulation of De Novo Collagen Production Caused by Cross-linked Hyaluronic Acid Dermal Filler Injections in Photodamaged Human Skin. Archives of Dermatology. 2007;143(2). doi:10.1001/archderm.143.2.155
Huang Y, Yang P. Application of Cross-Linked and Non-Cross-Linked Hyaluronic Acid Nano-Needles in Cosmetic Surgery. International Journal of Analytical Chemistry. 2022;2022:4565260. doi:10.1155/2022/4565260