Fat Transfer to Breast
Offered at our convenient location in Scottsdale, Arizona
Boost your bust the natural way with Wolin Plastic Surgery Center. There is no rivaling the dramatic improvements in size and shape that are possible with Breast Augmentation with implants. But there's a new technique for those who seek subtle enhancement. Fat transfer, or fat grafting, employs your own autologous tissue to augment your breasts. Take fat from your thighs and belly and put it where you want it most! A slimmer waist and bigger breasts are possible with a single procedure.
Dr. Andrew Wolin is double board certified by the American Board of Plastic Surgery and the American Board of Otolaryngology. From the offices of his celebrated practice, Wolin Plastic Surgery Center, he brings his polished skill and profound experience to the people of Scottsdale, AZ, and its surrounding communities. Dr. Wolin is a pioneer and an innovator in the autologous fat grafting technique.
Start the conversation and begin your journey to the new you. Call (480) 945-8440 to schedule your personal consultation with Dr. Wolin.
Before and After Photos
About
Autologous fat grafting for the breasts is a combination procedure that leverages new advancements in liposuction and breast augmentation. Fat transfer makes use of living fat cells harvested from your own body to improve your bust.
Liposuction has gained in popularity in recent years as the procedure has been refined and technology has improved. Now, those molecules of fat can be put to good use to benefit your breasts in several ways.
Autologous Fat Grafting for Breast Augmentation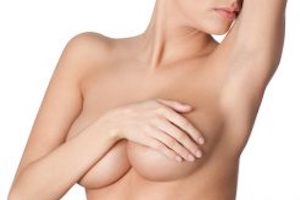 When it comes to their chests, some women only seek an understated upgrade. Fat transfer's exquisite enhancement is long-lasting and all-natural. Autologous fat is grafted onto existing breast tissue and the two merge indistinguishably. This eliminates the negative contingencies associated with silicone implants, like rupture or rejection. Also (unlike implants) it is not necessary to periodically revise or exchange fat transfer once the graft has taken.
Breast Implants Perfected With Fat Transfer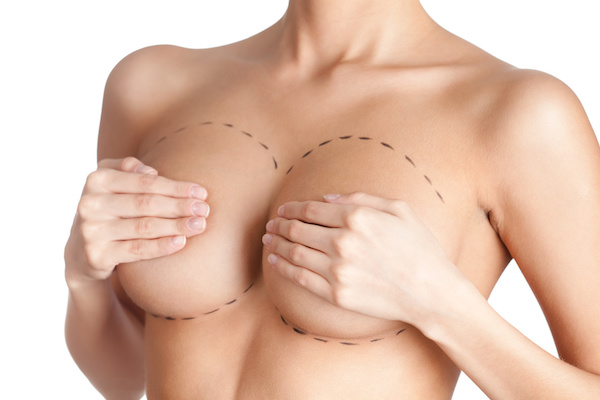 Silicone and saline implants will take your breasts to alluring new heights. They are designed to complement the contours of your frame with their seductive shape. But the real look and response of your own fat tissue can never be perfectly imitated. So why not combine the benefits of both? Dr. Wolin can perfect your implants with strategic lipo-injections at the surgical site. With this method, you can add silicone's incomparable enhancement to fat's incomparable long-lasting, natural fullness.
Dr. Wolin will upgrade his own work or revise the work of others so that you can achieve the body you've always wanted. Bask in the glowing reviews posted by our beautiful patients!
Autologous Fat Grafting Step-by-Step
Fat transfer to the breasts is a safe and simple procedure under the watchful eye of Dr. Wolin.. His years of experience have refined his approach.
Ultrasound-Guided Local Anesthesia
Dr. Wolin is renowned for his Ultrasound-Guided Local Anesthesia. It eliminates the need for the deep sedation of general anesthesia. Guided by ultrasound, long-acting local anesthesia is used to enhance sedation and produce a pain-free immediate post-op experience.
Fat Harvest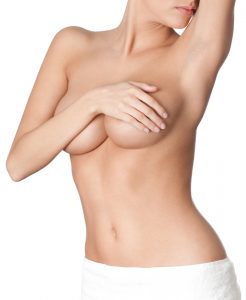 Dr. Wolin employs liposuction during the fat harvest phase of the procedure. The primary tool of liposuction is a long, narrow cannula wand affixed to a pressurized hose. Dr. Wolin's aim is to draw the living fat cells from pre-selected areas of the body (usually the thighs, belly, flanks or some combination thereof). He aspirates the delicate tissue by administering gentle suction through the cannula.
Fat Purification
Before the final transfer, the fat must be purified. When dealing with the volume of fat needed to enhance the breasts, Dr. Wolin will gather the fat cells into a large collector. The collection device will safely amass the living cells for purification without damaging them.
Final Transfer
Cannula in hand once again, Dr. Wolin makes several insertions around the patient's chest, infusing both breasts with the proper amount of autologous fat. He will continue the fat transfer until the bosoms are adequately augmented.[1]
How Long Does Fat Transfer Last?
The results of fat grafting are long-lasting. It is the vitality of the fat as well as the stem cells surrounding the fat which gives the augmentation of the breasts its longevity.
The aim is to encourage the integration of the grafted tissue into the target area.
Unlike a manufactured implant, the transferred fat along with the accompanying stem cells will develop new blood vessels and rejoin the body's vital processes. Your fat transfer augmentation will blend with your native breast tissue and thrive because it is all composed of your very own living cells.
It is important to temper these sunny expectations with another fact of fat transfer, however. For a period of about three months following lipo-injection, your body consumes up to 50% of the autologous fat, leading to subtler results than what you experienced on surgery day. But don't let this deflate your hopes. When the graft takes, all the mass that remains is there to stay. To avoid contraction issues altogether, the fat transfer procedure is popularly paired with breast implants. This will give fat transfer's natural advantages a silicone or saline boost.
How Long Does It Take to Recover From Breast Fat Transfer?
Downtime from fat transfer is minimal. You'll be back in action in about three to five days. Dr. Wolin's expert surgical skill plays a large role in the speed and ease with which you recover.
For instance, a strategically injected local anesthetic is preferable to the nausea and vomiting of general anesthesia. That is because your body's post-op resources are best spent on recuperation, rather than shaking the effects of the general anesthetic's gases and drugs. As your healing progresses, several days of prescription pain meds give way to over-the-counter solutions.
You should be able to return to work within a week. Expect some swelling and soreness. You may return to vigorous exercise after three weeks.
What Does Breast Augmentation with Fat Transfer Cost?
Each procedure is customized to the individual. Your personal consultation with Dr. Wolin is when he will be best able to quote you an accurate price. Check our specials page frequently for package deals.
Natural Enhancement in Arizona
Who would have dreamed that your own unwanted fat could help you to achieve the body you've always wanted? Contact Dr. Wolin to begin your transformation. Call (480) 945-8440 to schedule your personal consultation at Wolin Plastic Surgery Center in Scottsdale, AZ.
FAQ
Do breasts get bigger after liposuction?
Liposuction is a component of breast augmentation with autologous fat transfer. But recent studies reveal a possible bonus benefit: spontaneous breast enlargement following liposuction! Research scientists have objectively measured this unexpected outcome in as many as 37% of liposuction patients. These women went up at least a cup size. Certainly, liposuction alone to the various "problem areas" (e.g. thighs, belly, flanks, etc.) may lend to the illusion of a bigger bust—as the waist narrows, for instance, the breasts may appear to grow larger. But scientists say this curious phenomenon is no illusion. Some hypothesize that hormone changes and shifting estrogen levels may be the cause.[2]    
What are the side effects of fat transfer?
The medical consensus considers breast augmentation with fat transfer to be a relatively safe procedure. There are fewer risks associated with it than with implants. Still, there are some side effects to keep in mind as you and your doctor monitor your recovery. There will be some bruising and swelling immediately following your surgery; they should subside as your healing progresses. Also, women report temporary numbness in the surgical site. Be prepared—you will develop small scars as the breast tissue regenerates; these will fade from prominence, however. Most of all, patients should have a realistic expectation of the outcomes. Around half of the grafted fat may be reabsorbed into the body, muting the procedure's results. To achieve long-lasting, comprehensive enhancement, many women consider combining fat transfer with implants for breast augmentation. 
What are the risks of fat transfer?
Even though autologous fat transfer is considered comparatively safer than implants by the prevailing medical consensus, any open surgery comes with its inevitable associated risks. For example, blood clots and possible infection—but these are a hazard every time you go under the knife. Some people may have unforeseen reactions to anesthesia. Fortunately, avoiding these instances is where a surgeon's experience is worth his or her weight in gold. Be sure you place your trust in someone who is no stranger to the scalpel. Better yet, choose a doctor who specializes in the unique challenges of autologous fat grafting, as there are certain risks peculiar to the procedure. Hematoma can develop if blood collects under the skin. And fat necrosis may break out if your graft doesn't take. An errant fat globule might block a blood vessel, causing a fat embolism. A skilled surgeon is sure to prevent air from leaking into the space between your lungs and chest wall, the cause of pneumothorax. Alert your doctor if you notice thick, obvious scars developing post-op, as these may indicate hypertrophic scars.   
References
Simonacci, F., Bertozzi, N., Grieco, M. P., Grignaffini, E., & Raposio, E. (2017). Procedure, applications, and outcomes of autologous fat grafting. Annals of Medicine and Surgery, 20, 49–60. doi: 10.1016/j.amsu.2017.06.059
Frew, K. E., Rossi, A., Bruck, M. C., Katz, B. E., & Narins, R. S. (2006). Breast Enlargement after Liposuction: Comparison of Incidence between Power Liposuction versus Traditional Liposuction. Dermatologic Surgery, 31(3), 292–296. doi: 10.1111/j.1524-4725.2005.31076