Fat Transfer to Face
Offered at our convenient location in Scottsdale, Arizona
For 20 years, patients from all over have come to Dr. Wolin for his facelifts that include using a patient's own fat as a "sculpting tool."
Erasing the evidence of the passage of time from your face is a specialized task. Expensive creams, serums, and gadgets make promises of smoother, more youthful skin after using. Paying for ineffective topical treatments can leave you feeling as though the solution to your skincare woes just does not exist.
Dr. Andrew Wolin is a double board-certified plastic surgeon who understands that you desire fullness to your face in addition to wrinkle-free skin. This is why he performs his highly sought-after fat transfer to face procedure for qualified facelift patients. Dr. Wolin's skill, talent, and knowledge can help you effectively achieve your aesthetic goals.
To learn about Dr. Wolin's fat transfer to face, facelift, and other transformative procedures, do not hesitate to contact Wolin Plastic Surgery to schedule a private consultation.
What is fat transfer to face?
Fat transfer to face (also known as fat grafting) is a comprehensive surgical solution to treat deflated facial features due to age. Dr. Wolin will perform a traditional facelift surgery to remove excess skin and tighten the musculature and remaining tissue. This provides you with a smoother, more taut appearance. From there, fat transfer to face will begin. Dr. Wolin utilizes the power of liposuction to contour areas of your body where you may have undesired fat deposits. The fat collected from this stage of the procedure is purified to separate viable fat cells from other cells and contaminants. The cleansed fat is appropriately prepared and carefully injected under the skin to plump, fill, and smooth your face.
Before and After Photos
Benefits
"You cannot fix the deflation in an older face just by pulling on the skin," Dr. Wolin explains. "A youthful look has to do with the softness and plumpness of the skin."
The benefits of this procedure—which involves both a traditional facelift as well as sculpting the lifted face with your own fat—achieves the suppleness you have wanted. The lift supports and tightens the skin and the underlying supportive muscular layer, while the fat helps plump the deflated areas showing signs of aging. This can leave you with a natural, soft, and youthful look.
Fat Transfer to Face Benefits
Safe and effective procedure
Long-lasting, natural-looking results
Fuller and softer facial contours
More youthful appearance
Simultaneously contour your body
Significantly decreased risk of adverse reactions
All-natural dermal filler that includes adult stem cells
Enhanced health of your skin
If you are ready to reap the benefits of using your unwanted fat to plump and shape your face, providing you with an impressive youthful glow, contact Wolin Plastic Surgery to schedule a consultation with Dr. Wolin today!
Candidates
Ideal candidates for fat transfer to the face are healthy adults with lax, sagging tissue on the face. Their skin shows signs of aging, including lines and wrinkles, jowling, and deflation. Those seeking this procedure should have adequate fat available in select areas of their body to transfer to the face. If you desire to achieve a healthy glow by way of a fat transfer to face procedure, you should have realistic expectations of the procedure.
Are you a candidate for this amazing fat transfer procedure? Reach out to the knowledgeable staff at Wolin Plastic Surgery. This will be more than willing to help you schedule a private consultation to get started!
Your Consultation
During a one-on-one meeting, you will be encouraged to share your aesthetic goals with Dr. Wolin. He will inquire about your health and medical history and perform a physical examination of your face and proposed fat donor site(s). Dr. Wolin is a leader in his field and will make certain to address any questions and concerns you may have about fat transfer.
Are you ready to learn more about your personalized fat transfer to face treatment? Call Dr. Wolin's convenient Scottsdale office office today at (480) 945-8440 to schedule your consultation.
After his assessment of your goals, needs, and anatomy, Dr. Wolin will determine if fat transfer to your face is an ideal procedure for your goals. If there is an alternative procedure that will better suit your needs, Dr. Wolin will provide you with his professional opinion. From there, the doctor will work with you to create a customized treatment plan for your fat transfer procedure.
Preparation
To prepare for your facial fat transfer surgery, Dr. Wolin may instruct you to stop smoking tobacco products and taking certain medications that may thin your blood to promote proper blood and oxygen circulation. Dr. Wolin will direct you to appoint a trusted adult to drive you home after the procedure and stay with you for at least 24 hours. You will also need to fill and pick up any medications Dr. Wolin prescribes prior to your surgery date so you have them on hand when needed.
As each patient has unique needs, if there are any instructions specific to your case, Dr. Wolin will inform you of them during your consultation and pre-operative appointment.
Fat Transfer to Face Procedure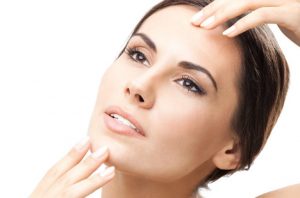 On the day of your fat transfer to face, Dr. Wolin will meet with you briefly to review your treatment plan. He will mark your face and fat donor site(s) with a marker. This will assist him with identifying any anatomical landmarks, areas he should pay special attention to, and the incision sites. Once you are in the operating room, you will be administered the proper anesthetic. This will keep you comfortable throughout the procedure.
Facelift
When the anesthesia has taken effect, Dr. Wolin will follow his markings and make the necessary incisions for your facelift. He will separate the skin from the underlying tissues and lift the facial muscles to a more natural and higher position. From there, the skin will be distributed over the facial structure and sutured closed. This will more accurately reveal the areas of the face that require additional volume.
Liposuction
Once the facelift is complete, Dr Wolin will use a low pressure syringe removal of fat from the thighs or flanks for use in transfer to the face. This fat is centrifuged under low G forces and is injected as small parcels of microfat into the facial areas which need to be sculpted. The actual amount of fat is usually less than a cupful so there is minimal change in the contour and volume of the donor areas.
Autologous Fat Transfer
The purified, harvested fat will be placed into syringes to prepare for your facial fat transfer. Dr. Wolin will precisely inject the fat superficially for correction of wrinkles and more deeply for correction of facial contour deformities and general facial fat loss.
He will plump and smooth the depressions and wrinkles, and provide you with healthy, youthful fullness. Because your very own fat is used to provide volume to your face, there are no limits as to what areas can be filled!
Fat Transfer to Face Recovery
After your operation, your face and donor site(s) will be swollen and tender. Compression garments and bandages may be applied to the surgical sites to manage swelling and help your body conform to its new contours. After some time in our recovery room, you may be cleared to return home and begin your healing journey. If you were unable to secure a friend or family member to assist you as you recover, you may spend the night in our state of the art recovery center.
There may be plastic drains placed in the areas your received liposuction treatment. These drains will remove fluid build up from under the skin to help further reduce swelling and discomfort.
Depending on the extent of your surgery, you may be able to return to light work within one to two weeks following your fat transfer to face procedure. You may gradually resume more strenuous activities 3 weeks following the procedure.
Follow up appointments with Dr. Wolin will be necessary to monitor your post-operative progress. Be sure to follow all of his directions for aftercare to ensure you achieve optimal results.
Results
"A youthful look has to do with the softness and plumpness of the skin."

Dr. Andrew Wolin
After you have healed from your fat transfer to your face procedure, your results will be sure to impress! Wrinkles will be ironed away, fullness will return to your cheeks, and your skin will be plump and lifted.
If you are ready to experience the amazing results of fat transfer to your face, contact Wolin Plastic surgery to schedule an informative consultation!
How much does fat transfer to face cost in Scottsdale?
Your final price for your facial fat grafting procedure will be unique to you. As each patient has different needs, this will be reflected in the cost for the comprehensive treatment. To receive an accurate quote, schedule a personal consultation with Dr. Wolin. Contact us today to learn about our pricing and payment options.
FAQ
Is fat transfer to the face permanent?
Facial fat grafting produces long lasting, natural-looking results! As your own naturally occurring fat is used to shape your face, your body will allow the transferred fat cells to integrate into its new home. New blood vessels will form under your skin to help the fat thrive and remain healthy for years to come!
To maintain your fat transfer to face results, it is important that you maintain a steady weight after your procedure. Should your weight fluctuate significantly after fat transfer, your results may be compromised. Also, please be mindful that the aging process will continue and your face may change over time. However, your results will endure, allowing you to age gracefully. 
Additional Resources
American Society of Plastic Surgeons. (2020). Facelift Surgery: Rhytidectomy. Retrieved from https://www.plasticsurgery.org/cosmetic-procedures/facelift
International Society of Aesthetic Plastic Surgery. (2020). Fat Transfer (Facial). Retrieved from https://www.isaps.org/procedures/facial-plastic-surgery/fat-transfer-facial/